OxCERPC is involved in quality improvement and research locally and nationally.
The Palliative Care Research Group is based at Sobell House in Oxford.
At OxCERPC we believe that an integral part of care involves critically appraising our practice, asking questions about how it might be improved, seeking possible solutions and testing our assumptions.
OxCERPC has strong links with the University of Oxford, both the Experimental Medicine Division of the Nuffield Department of Medicine and Harris Manchester College, Oxford University Hospitals NHS Foundation Trust, Oxford Brookes University and other academic national and international centres.
In this section we report on research projects in which Sobell staff are involved and resulting publications and posters.
Publications and Posters
Original article
Patient safety in palliative care: A mixed-methods study of reports to a national database of serious incidents
Iain Yardley, Sarah Yardley, Huw Williams, Andrew Carson-Stevens and Liam J Donaldson
Abstract
Patients receiving palliative care are vulnerable to patient safety incidents but little is known about the extent of harm caused or the origins of unsafe care in this population. Aim: To quantify and qualitatively analyse serious incident reports in order to understand the causes and impact of unsafe care in a population receiving palliative care. Design: A mixed-methods approach was used. Following quantification of type of incidents and their location, a qualitative analysis using a modified framework method was used to interpret themes in reports to examine the underlying causes and the nature of resultant harms. Setting and participants: Reports to a national database of 'serious incidents requiring investigation' involving patients receiving palliative care in the National Health Service (NHS) in England during the 12-year period, April 2002 to March 2014. Results: A total of 475 reports were identified: 266 related to pressure ulcers, 91 to medication errors, 46 to falls, 21 to healthcare- associated infections (HCAIs), 18 were other instances of disturbed dying, 14 were allegations against health professions, 8 transfer incidents, 6 suicides and 5 other concerns. The frequency of report types differed according to the care setting. Underlying causes included lack of palliative care experience, under-resourcing and poor service coordination. Resultant harms included worsened symptoms, disrupted dying, serious injury and hastened death. Conclusion: Unsafe care presents a risk of significant harm to patients receiving palliative care. Improvements in the coordination of care delivery alongside wider availability of specialist palliative care support may reduce this risk. 
To read full text, click here
Case report
Postural nausea due to platypnea orthodeoxia
Victoria Bradley, Nikant Sabharwal, Elizabeth MacGregor and Charles Bond
Abstract
Platypnea orthodeoxia is an uncommon condition but given its associations with severe lung disease and advancing age, it might be seen in the palliative care population. Presentation is classical in the association of symptoms with postural change. It should be considered when patients present with breathlessness or desaturation given the minimally invasive tests of echocardiography, and the potential for procedural resolution of the defect and thus symptoms. Further, there has not previously been reported a case presenting with nausea (rather than dyspnoea) secondary to platypnea orthodeoxia syndrome. This unusual presentation is a reminder that there is a broad range of potential subjective experiences of the same physiological events. Careful history and examination are vital in elucidating the underlying cause.
To view full text:  http://dx.doi.org/10.1136/bmjspcare-2019-001918
Case report
Opioid-induced hyperalgesia from Alfentanil: A case report
Farzana Virani, Mary Miller and Jeffrey Gilmour
Abstract
There remains uncertainty regarding the existence, mechanism and frequency of opioid-induced hyperalgesia (OIH). Literature to date has been dominated by the phenanthrene opioids, fentanyl and remifentanil. This case draws attention to Alfentanil as an additional contributor. In this report, suspected OIH and subsequent reduction in opioid dose led to a dramatic diminution of pain. Omission of such a differential may have led to detrimental consequences. Underlying dementia heightened his vulnerability and illustrates the necessity of clinical expertise in the diagnosis and management of OIH, particularly when diagnostic criteria are lacking. The case demonstrates the need to include OIH as a plausible differential diagnosis in escalating pain where opioid tolerance, disease progression and non-opioid sensitive pain are excluded.
Dr Virani is a Specialty Registrar in Palliative Medicine (ST5) on the Oxford rotation. Dr Virani writes about a patient she met while working with the Sobell Hospital Palliative Care Team
To view full text: https://spcare.bmj.com/content/early/2019/08/29/bmjspcare-2019-001901.abstract
Article
In what ways might group clinical supervision affect the development of resilience in hospice nurses?
Amy Francis and Chris Bulman
Abstract
Background: Resilience is important to sustain hospice nurses through a challenging career. Clinical supervision is a commonly cited support strategy, but there is limited evidence which focuses on its influence on the development of resilience in hospice nurses.
Aims: To explore how group clinical supervision might affect the development of resilience in hospice nurses.
Method: A pragmatic approach and mixed methods research design was employed. Quantitative questionnaire data and qualitative focus group data were collected from community hospice nurses participating in group clinical supervision.
Findings: The findings identified the importance of an effective group reflective process on the benefits to be gained from clinical supervision. Clinical supervision was found to affect the development of resilience by developing confidence at work, regulating emotions, offering a coping strategy, managing expectations, and developing self-awareness. This was dependent upon individual preference and experience, the local organisational context, and wider social and political factors.
Conclusion: This research contributes insight into group clinical supervision as an intervention to support resilience in hospice nurses. It offers recommendations for practice, to enhance the development of resilience through clinical supervision, and recommendations for future research.
To view full text: https://www.sobelleducation.org.uk/wp-content/uploads/2019/09/amy-francis_supervision-article.pdf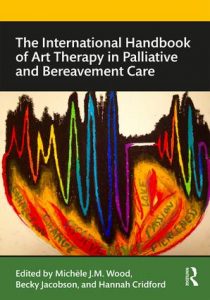 The International Handbook of Art Therapy in Palliative and Bereavement Care
Edited by Michele Wood, Becky Jacobson, Hannah Cridford
2019. 416 pages.
The International Handbook of Art Therapy in Palliative and Bereavement Care offers a multicultural and international perspective on how art therapy can be of help to individuals, groups, families, communities, and nations facing death and dying as well as grief and loss.
Over 50 art therapists from around the world write about the transforming power of art therapy in the lives of those facing terminal illness, dementia, loss, and grief. They offer practical descriptions and techniques for working with adults and children to guide professionals, including those new to using art therapy and creative approaches in end-of-life care services.
This international handbook is essential reading for arts therapists, social workers, medical personnel, faith leaders, and psychologists interested in a collaborative and accessible approach to working with patients and families affected by loss.
For more information click here
Hannah Cridford is the Art Therapist at Sobell House Hospice.
BOOK
Pocket Tutor Psychiatry, second edition
Tomasz Bajorek and Tom Stockmann
2018. 280 pages.
This  book features logical, sequential content offering an introduction to the clinical essentials of psychiatric practice, then chapters devoted to common groups of disorders and clinical issues, e.g. mood disorders, anxiety disorders, child and adolescent psychiatry.
Topics reflect information needs stemming from today's integrated undergraduate and foundation courses:
•Common presentations
•Investigation options (e.g. ECG, imaging)
•Clinical and patient-orientated skills (e.g. examinations, history-taking)
Key points
•Logical, sequential content: an introduction to the clinical essentials of psychiatric practice, then chapters devoted to common groups of disorders and clinical issues, e.g. mood disorders, anxiety disorders, child and adolescent psychiatry
•Fully updated to reflect the new DSM-V
•Additional content on old age psychiatry and social care. New chapter on mental health services and legislation
For more information click here
Tomasz Bajorek is a psychiatrist at Sobell House Hospice.