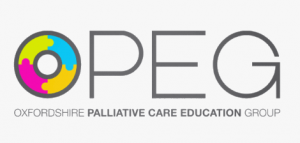 The Oxfordshire Palliative Care Education Group (OPEG) exists to:
provide a structure for developing Oxfordshire-wide palliative care educational activities and a loose coordination for these activities,
provide a forum for sharing ideas, feedback and good practice in palliative care education,
provide broader training opportunities for our own staff through information sharing and cooperation with each other,
influence the development of education strategy for palliative and end of life care,
identify and coordinate application for funds to support palliative care educational activities.
Membership of  (OPEG) may include:
1 or more members or deputies from each of the four Oxfordshire specialist palliative care providers:
Sue Ryder Care, Nettlebed
Katharine House, Banbury
Sobell House. Oxford
Helen House, Oxford
1 representative from OUH Foundation Trust
1 representative from Oxford Brookes University
2 representatives from Oxford Health Foundation Trust including a community Matron
1 member of SCAS
Current chair – Kate Butcher
Other points to note:
Meetings will take place twice a year and phone calls twice a year for up to 90 minutes
Venue for meetings – may rotate around Hospices
On occasions, the meeting may dovetail with, or be replaced by, a wider forum for staff involved in teaching.
Additional members may be co-opted from time to time, for specific reasons and for agreed periods of time.
In the provision of palliative and end of life care education in Oxfordshire, the identity of each provider must be maintained so that local relationships can continue to be nurtured.  Where good ideas or models are shared, their origins will be acknowledged.
Relationship of OPEG to other bodies locally, regionally or nationally could be through the Chair or other OPEG members who may sit on these bodies. OPEG should seek representation on over arching bodies in order to fulfil its terms of reference
Updated September 2019
Review September 2021
The End of Life Care (EOLC) Education Fund
OPEG has established the EOLC Education Fund to assist practitioners working with those nearing the end of life in Oxfordshire to access education. The fund is managed by Oxford Centre for Education and Research in Palliative Care (OxCERPC) with guidance from OPEG.
Purpose of the Education Fund
To provide financial support for practitioners working with those nearing the end of life, to attend study days/courses where a fee is charged (up to £600 per person per year, not to include travel or accommodation expenses).
To help Oxfordshire health/social care organisations to commission bespoke training.
Criteria for Governance of the Education Fund
Individuals or organisations can apply to the EOLC Education Fund where:
the organisation/individual has identified clear objectives and outcomes for the education that will improve end of life care,
the study day/course is considered to be directly relevant to improving the quality of end of life care given to patients or family members and other people important to the patient.
Please note: The fund cannot be used to replace basic or mandatory training that should be provided by an employer.
Assessment Process
Complete an application form as an individual or as an organisation, and return to

[email protected]

at least eight weeks before the funding is needed.
OPEG sub-group will scrutinise requests and inform OxCERPC of their decision.
OxCERPC will inform the applicant of the decision.
Data Impact Statement
Applicants' contact details and information about study days/courses attended and payments made will be held by OxCERPC on a standalone spreadsheet managed by OxCERPC for 12 months following the date of their application.