The Oxford Advanced Pain and Symptom Management Course – Webcast
All speakers in place! Looking forward to a great course.
For 2022 you will have a choice, face-to-face or virtual lectures. That choice will enable delegates to choose the safest option for themselves,  availing of a first class education and managing their budget.
Virtual learning: It was great to draw on the expertise of international speakers in 2021 and fantastic to meet international delegates virtually. 2022 virtual lectures will afford the same opportunities. The virtual series of lectures will cover the same topics as the face to face lectures.
Dates virtual: The virtual lectures will be available to watch at any point that suits the person who has taken out their individual subscription from 12th July (please note the change from 4th) until 1st November 2022
This course is amongst the UK's leading courses for palliative care nurses, pharmacists and doctors. For nearly 35 years it has delivered cutting edge knowledge and skills to healthcare practitioners so they can provide their patients with the best possible care. Dr Mary Miller has led the course since 2008, developing a unique course each year.
Organisations get value for money as the course delivers high standards of professional knowledge, is educationally sound allowing staff time for discussion and supports staff in setting continuing educational goals for the year following the course.
Any profits generated are ploughed back into education - as we are a charity.
Educational Credits: 12 CPD credits awarded by the RCP
+ Speakers
1. Ben Bowers, NIHR SPCR PhD Student and Queen's Nurse, Cambridge: Systematic review of the evidence base for anticipatory prescribing and recent study investigating patients, families and their clinicians' views and experiences of anticipatory medication care over time
2. Dr John Curtin, Consultant in palliative medicine: Describes use of Tranexamic Acid subcutaneously to manage bleeding toward the end of life. Dr Curtin draws on recent case reports in the literature and the Isle of Wight retrospective study.
3. Dr John Curtin, Consultant in Palliative Medicine: Describes the evidence for use of Esomeprazole as a subcutaneous proton pump inhibitor.
4. Mr Martin Gillies, Senior research fellow and lecturer, Oxford functional neurosurgery, University of Oxford: Palliative neurosurgery for pain
5. Dr Paul Howard, Consultant in palliative medicine and senior editor of the Palliative Care Formulary: Isle of Wight adaptations in Covid to support care at home, description of ideas and changes to practice
6. Dr Paul Howard, Consultant in palliative medicine and senior editor of the Palliative Care Formulary: Clonidine in pain management
7. Dr Michael Kearney, Consultant in palliative medicine, Santa Barbara, California: Thoughts on resilience to support our practice in palliative care
8. Tim Lawn, NIHR Maudsley BRC PhD student, Department of Neuroimaging, Institute of Psychiatry, Psychology and Neuroscience, King's College London: Pain in the neurodegenerating brain. How will current research inform our practice?
9. Dr Matt Mulvey, Yorkshire Cancer Research University Academic Fellow, Academic Unit of Primary and Palliative Care, University of Leeds: Neuropathic pain
10. Dr Mary Miller, Consultant palliative medicine, Department of Palliative Care, Oxford University Hospitals NHS Trust: From the journals... articles that have informed and influenced practice
11. Melinda Presland, Consultant pharmacist, Department of Palliative Care, Oxford University Hospitals NHS Trust: Considering medications for vegans and vegetarians - what we need to know about 'palliative care' medications.
12. Dr Anna Schuberth: Managing cancer related bone pain - up to date review and advice for practice
+ Course Programmes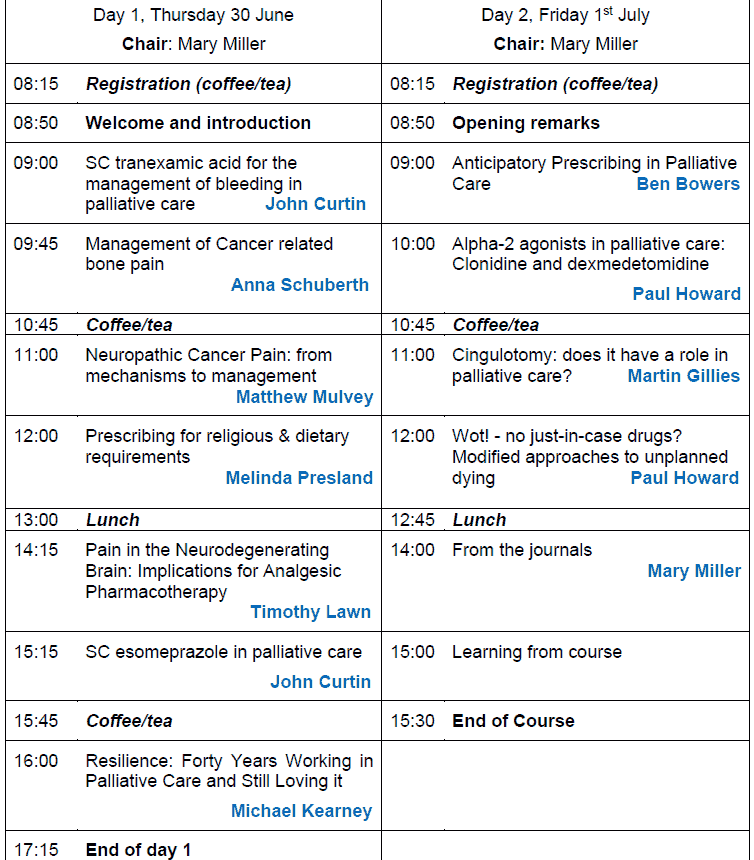 + Course Aims
The course aims to provide participants with:
- Knowledge to inform and update your practice
- Knowledge that is delivered by expert speakers
- Knowledge that develops between the speakers and the audience during questions and discussions
- Resources that can be used over the following 12 months to develop and extend your learning
- Resources that will support you to bring learning back to your workplace
- Resources that will help you develop your portfolio of evidence for appraisal and revalidation
- A means of ensuring your practice is at the cutting edge
- Time for thinking, questions and reflection